Tuesday, April 24, 2012
9pm
Ossining, NY
Curtis Becraft Live! in-studio performing songs from his record Tales of a Traveler; with special guest Matt Turk!
Ossining, NY
website: wdfh.org/listen.htm
On Thursday April 12th 2012, Curtis Becraft and Matt Turk hit the road once again... this time they weren't going far, just into Yonkers to play songs from Curtis' record Tales of a Traveler at WDFH 90.3 FM!!!
DJ Vinny Cohan and producer Mark Sophos, and a very VIP audience... were in attendance as Curtis played five original songs in the studio on 6- and 12-string acoustic guitars, accordion, harmonicas and vocals; backed by longtime comrade Matt Turk on mandolin, 6-string acoustic guitar and vocals.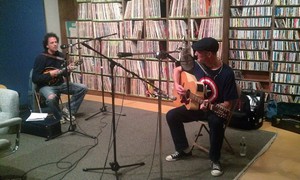 We also spun three songs from Curtis' record Tales of a Traveler - including DJ Vinny's choice, the wordless "Next Time Around"... Actually the record boasts many Tribes Hill members - co-produced with Fred Gillen Jr. at Woody's House in 2009-2010, with many tribespeople lending a hand and contributing beautiful musical parts! I hope you can listen in to the show! Yours truly, Curtis